Sicilian Cauliflower Pasta
Inspired from: Food Network Kitchens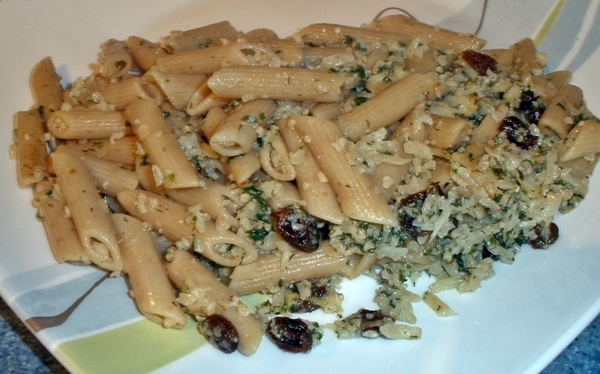 This is a very simple whole grian pasta main dish that is meat free. It has exceptial taste and is very healthly.
Sicilian Cauliflower Pasta
Author:
Simple Food Solutins (Inspired from Fod Network Kitchens)
Ingredients
12 oz whole wheat penne pasta, cooked according to package
½ head cauliflower
2 tablespoons olive oil
3 tablespoons raisins
1 tablespoon minced garlic
1 cup fresh parsley, chopped
¼ cup fresh dill chopped
1 tablespoon fresh lemon juice
2 tablespoons grated parmesan cheese
Zest from 1 lemon
Pinch of red pepper flakes
Salt and Pepper to taste
Instructions
Reserve ¾ cup of pasta cooking water after pasta is cooked.
Coarsely grate the cauliflower florets.
Heat the oil in a large skillet. Add the cauliflower, raisins, garlic, red pepper flakes, and ¼ teaspoon salt and cook, stirring occasionally, for about 4 minutes.
Remove the skillet from the heat and stir in the pasta, parsley, dill, lemon juice, lemon zest, cheese and ½ cup of the reserved cooking water. Add salt and pepper to taste. Add rest of the cooking water and toss.
Here are a few pictures from us coking this recipe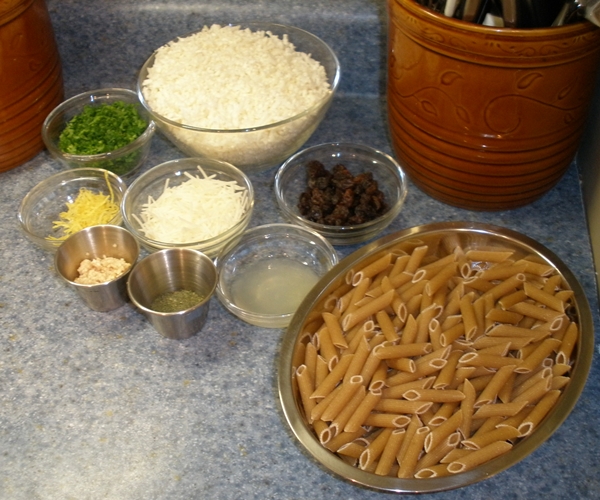 This recipes has few items, but they come together beautifuly. We only use whole grain pasta, but feel free to use what ever you choose. Cut up the cauliflower into very small chunks or heavy grate style. Then cook the pasta according to the package directions, before draining, make sure to save 3/4 cup of the cpasta cooking water,  drain remainer of cooking water, and return pasta to the cooking pot. Coat pasta with 1 tablespoon of olive oil and cover to keep warm.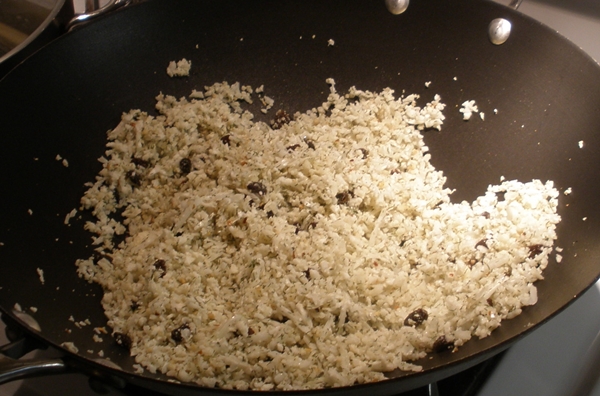 In a large skillet heat 2 tablespoons olive oil, add the califlower, raisins, garlic, red pepper flakes, and 1/4 teaspoon salt. Cook and stir for about 4 minutes. Remove from the heat. add in the cooked pasta and rest of the ingredents. toss well to mix. Add the resevered cooking water and toss to coat. Serve it with some good old cheesy bread or a fresh salad.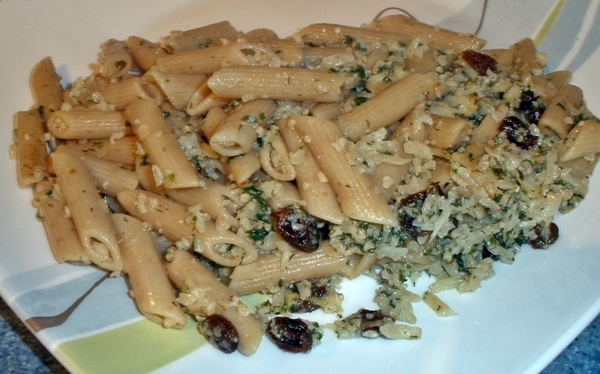 Cooked By: Tom Corliss
——————————————————————————————————————————————————————————————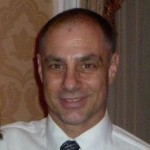 About Tom Corliss
Tom Corliss is a web publisher, internet marketer, and website developer, with 3 current websites, Home Information Guru.com, Home Selling Resources.com, and Simple-Food-Solutions.com. He also runs a home improvement company Corliss Property Enhancements. He has recently completed a new e-Book for anyone wanting to sell their home fast: Home Sellers Handbook
——————————————————————————————————————————————————————————————-
Check out our favorite Cook Books