Bacon Wrapped Swai Fillets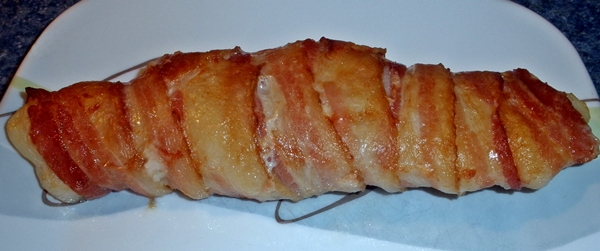 Delious bacon wrapped around butter sweat tasting swai fish fillets.
Bacon Wrapped Swai Fillets
Author:
Simple-Food-Solutions.com
Ingredients
4 Swai fish fillets
8 slices thin cut bacon
1 teaspoon Old Bay seasoning
Salt and pepper
Instructions
Preheat oven to 400 degrees and line a baking sheet with foil.
Season all 4 fish fillets with old bay, salt, and pepper.
Stack 2 Swai fillets on top of each other in opposite directions.
Wrap 4 slices of bacon around each stack of fish, covering the fish completely.
Place fish on foil cover baking sheet and cook for 30 minutes, turning over after the first 15 minutes.
After the Swai has cooked for 30 minutes, move the baking sheet up to the top rack in your oven and broil on high for 2 minutes to crisp up the bacon. Watch carefully so the bacon does not burn.
 Picutres from us cooking this recipe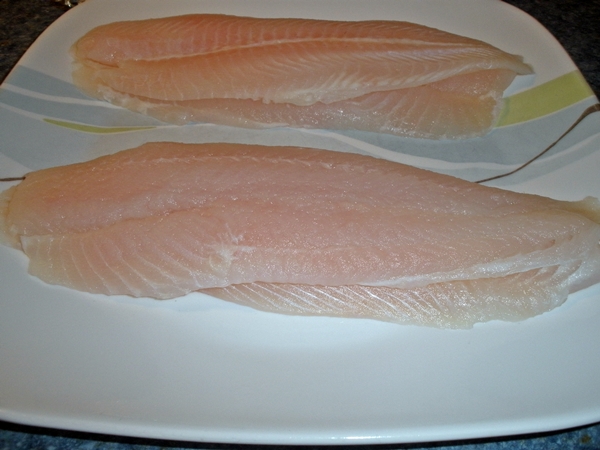 We used 4 swai fillets. After they have been thawed out, pat the fillets dry. Season each fillet on both side lightly with olb bay seasoning. Stack 2 fillets on top of each other in opposite dirrections. Wrap each stack of fillets with 4 pieces of thin sliced bacon leaving no gaps. It is best to use regular bacon instead of turkey bacon. The fish is so lean that it needs the fat from the bacon to cook better and add more flavoing.
Pre-heat oven to 400 degrees.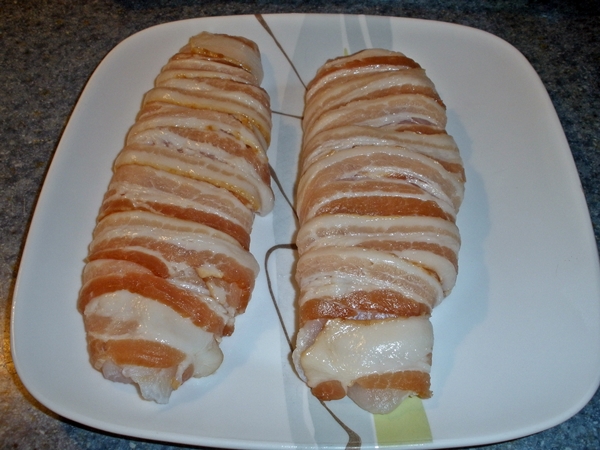 This is what they should look like.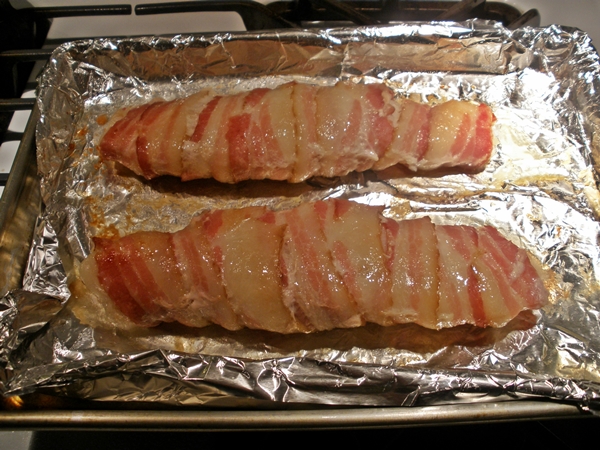 Place wraped fish fillets on a foil lined baking sheet and bake for 15 minutes on the first side. Then turn the fillets over and continue to bake for 15 minutes more.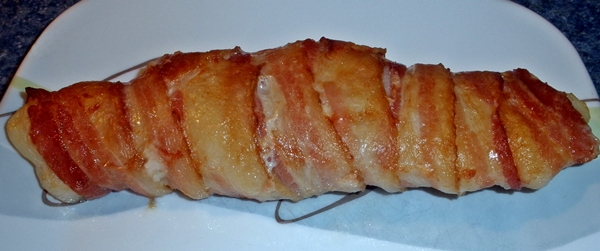 These turn out cripsy on the outside and nice and juicy on the inside. They will cut easily with a fork.
Cooked By: Tom Corliss
——————————————————————————————————————————————————————————————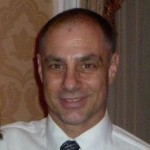 About Tom Corliss
Tom Corliss is a web publisher, internet marketer, and website developer, with 3 current websites, Home Information Guru.com, Home Selling Resources.com, and Simple-Food-Solutions.com. He also runs a home improvement company Corliss Property Enhancements. He has recently completed a new e-Book for anyone wanting to sell their home fast: Home Sellers Handbook
——————————————————————————————————————————————————————————————-
Check out our favorite Cook Books