Grilled Ham, Cheese, Mushroom and Onion Sandwiches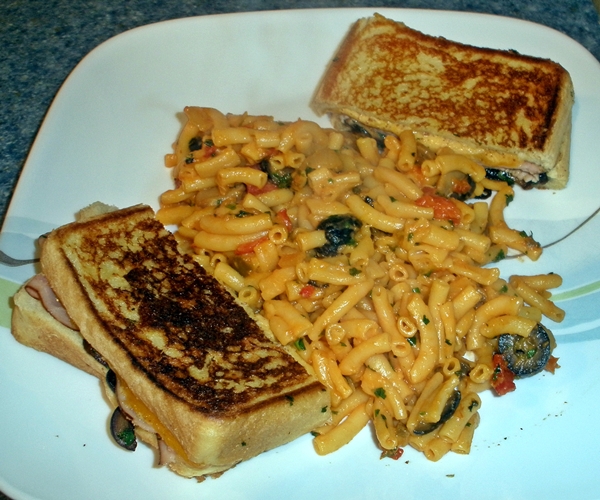 Grilled Ham, Cheese, Mushroom and Onion Sandwiches
Author:
Simple-Food-Solutions.com
Ingredients
8 slices think cut bread
8 ounces sliced mushrooms
1 medium onion, thinly sliced
3 tablespoons fresh chopped parsley
4 slices sharp cheddar cheese
4 slices Swiss cheese
1 lb good quality sliced deli ham
Deli-style mustard
Pre-pared horseradish sauce
1 stick of softened butter (8 tablespoons)
Instructions
In a large skillet, add 3 tablespoons butter and melt. Add the onions and mushrooms and sauté until mushroom and onions start to brown, about 5 minutes. Remove the sautéed onions and mushrooms to a bowl and keep warm.
Clean out the skillet. Butter 1 side of 4 slices of bread and place butter side down in the skillet. Spread a portion on deli mustard on the top side of this bread. Lay down a slice of cheddar cheese; divide the ham amongst the 4 sandwiches, top the ham with the mushroom and onion mixture. Top each with a slice of Swiss cheese. On 1 side of the last 4 slices of bread, spread a portion of horseradish sauce. Place on sandwiches. Lastly, spread butter on the top side of each sandwich.
Brown the sandwiches on each side until golden brown.
Pictures from Us Cooking this Recipe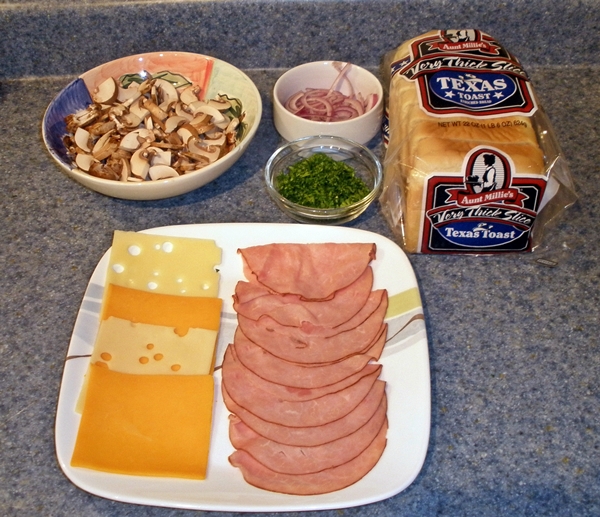 Just a few simple items needed to make these great griled sandwiches.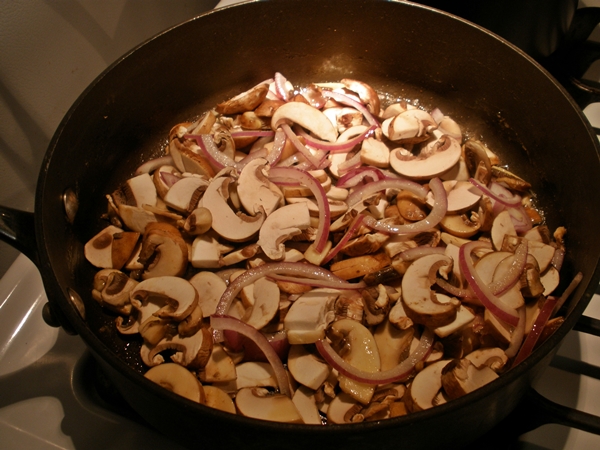 Strat with a large skillet over medium high heat. Melt 3 tablespoons butter. Add the onions and mushrooms and saute for about 5 minute. Remove to a bowl and cover to keep warm. Wipe pan with pappertowl.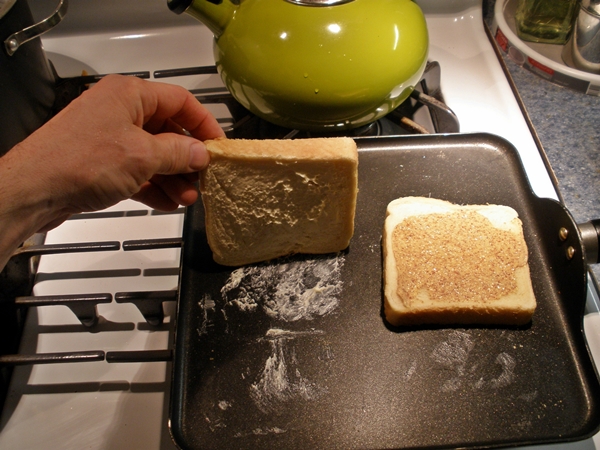 Butter bottom of bread with butter and place in pan. Top bread with some deli style mustard and prepared horseradish sauce.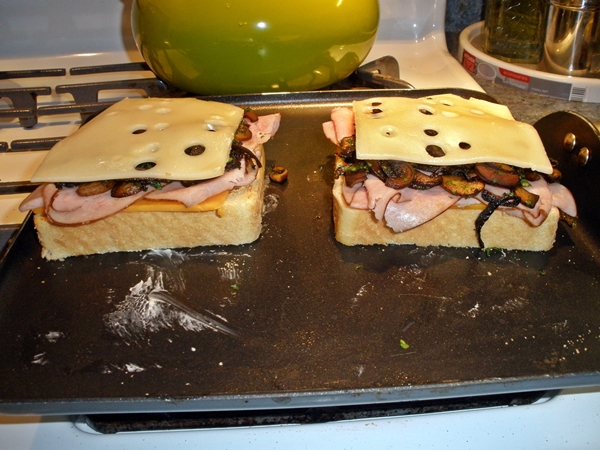 Top the mustard with sharp cheddar cheese. Divide ham and place on top of cheddar cheese. Top ham with grilled mushrooms and onions. Now put second layer of cheese, swiss, on top of the mushroom mix.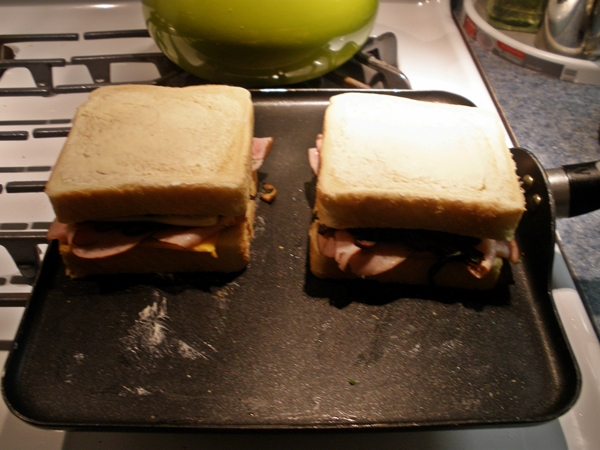 Before putting the top bread on, add a little more deli mustard and horseradish sauce. Top with second piece of bread and butter top of bread.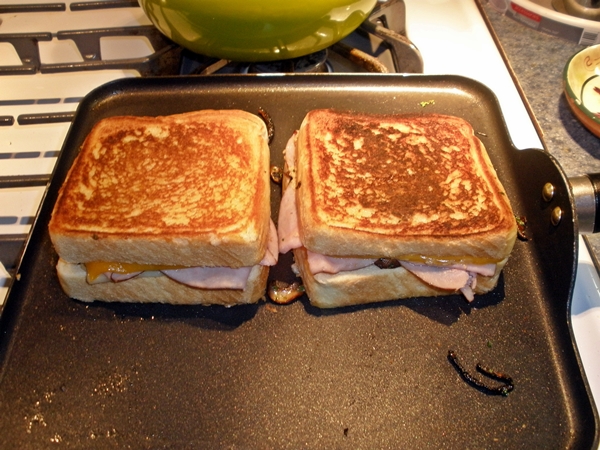 Gentally grill each side of sandwich until it is golden brown, about 3 to 4 minutes on the first side  and 1 to 2 minutes on the second side.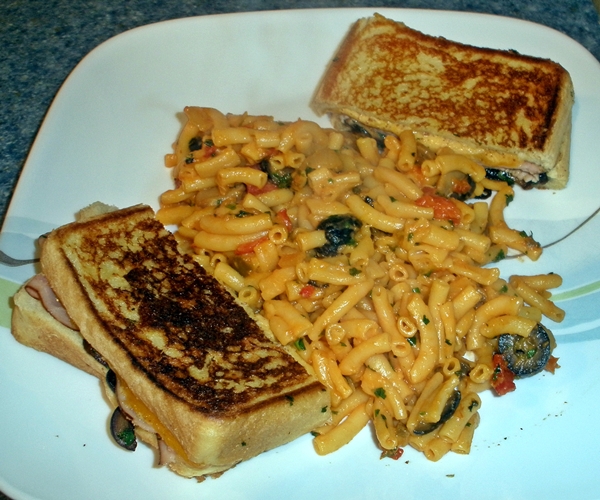 We served our sandwiches with some souped up mac and cheese and  a mini salad.
Cooked By: Tom Corliss
——————————————————————————————————————————————————————————————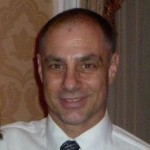 About Tom Corliss
Tom Corliss is a web publisher, internet marketer, and website developer, with 3 current websites, Home Information Guru.com, Home Selling Resources.com, and Simple-Food-Solutions.com. He also runs a home improvement company Corliss Property Enhancements. He has recently completed a new e-Book for anyone wanting to sell their home fast: Home Sellers Handbook
——————————————————————————————————————————————————————————————-